"What's that?" Asked the teens pointing to the top of the tall building next to our accommodation where we could see what appeared to be a swing. Enquiries revealed that it was the A'DAM Lookout swing. Europe's highest swing, no less. From that moment onwards it was inevitable that I would have to look on whilst the teens swung hundreds of metres above Amsterdam.

Once at the top, the views are stunning. Not that we got to linger as the teens were focused on joining the queue for the Amsterdam Lookout Swing. All bags, slip on shoes and phones need to be handed over and then they were strapped in very securely. Then I covered my eyes.
Once the swinging was over we got to wander round and take in the stunning views of Amsterdam. You can see why they call it the Amersterdam Lookout.
What would you do if you saw a red plastic horse, complete with proper saddle, at least a couple of feet taller than you? Foolishly I decided to climb up onto its back. Just a word of warning, it is a lot easier to get up on a high horse than it is to get down.
We visited at the end of busy day sightseeing and were rewarded with a stunning sunset. Even if you don't go on the swing going up to the Amsterdam observation deck is well worth it for the bird's eye views of Amsterdam.
One floor down is a bar with floor to ceiling glass walls. Dotted around are large screens that you can pivot and as new buildings hove into to view it tells you what you are looking at, a very fancy electronic diorama, giving a great Amsterdam view.
Or you could choose to sit and and take in the views with a drink in hand. Just don't look down on your way to the bar, its a long way down!
We did many interesting and wonderful things in Amsterdam like seeing cool street art, doing a yummy food tour and seeing The Nightwatch at the Rijksmuseum but the A'DAM Lookout Swing was the teens favourite thing by a long way.
A'DAM LOOKOUT SWING NEED TO KNOW
A'DAM Lookout is in Noord Amsterdam, to get there take the free ferry to Buiksloterweg that leaves from behind the Centraal Station.
Tickets cost €12.50 adults €6.50 child (4-12)
Swing is €5 more you need to be 130cm and over
Open 10am- 10pm
The rest of the Amsterdam Toren is taken up with the Sir Adam Hotel, which I imagine has great views.
PIN FOR LATER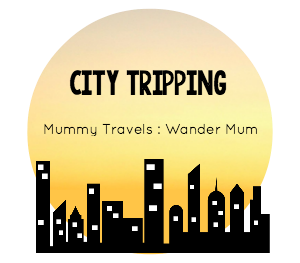 Linked up to Fearless Family Travel linky over at Wandermust Family